A Message from Merrill

Welcome PJA alum! B'ruchim Ha'baim!

Last week I had the great pleasure of attending our annual HS 411 event where recent PJA alumni meet with current 8th graders and their families to talk about their high school experiences and share advice about the transition from PJA to their new high school environments. I could not stop smiling at these wonderful alum who returned to their beloved PJA (on Zoom, of course), to share, advise, and reflect on all that PJA gave them over the years. Our four alumni were able to speak of the strong educational foundation they were given at PJA which gave them a leg up when they went to high school. They knew how to learn, how to advocate for themselves, and how to Think for Themselves and Work for the World. One student, now a 10th grader at a local public high school, advised students to "let the Jewish values of PJA take you" once you are in high school and talked about his Jewish involvement at his large public school and how important Jewish life has become for him.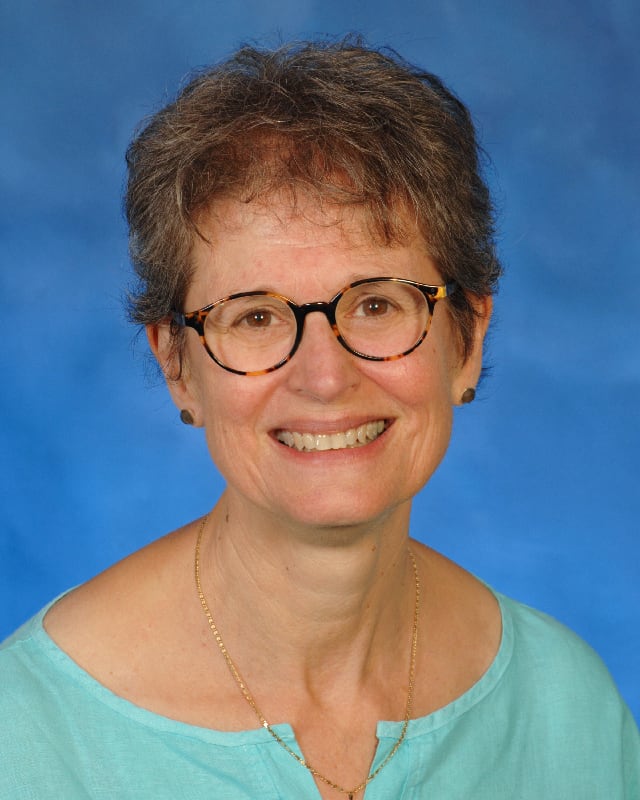 Others spoke of service work, study habits, love of arts, understanding of themselves, which benefits them all in their new high school environments. Each year when alum return for this event and others, we are given the opportunity to see how our former students have blossomed and the many paths they have taken in life. We marvel at their adventures and their insight.

This year has been an unusual one for PJA as we navigate the challenges of the pandemic and learn to teach and learn in new ways. We continue to value community and find ways to come together for Jewish holidays, Shabbat, and many other celebrations of learning. Our dedicated and passionate teachers make learning interesting and exciting, even on a Zoom screen! We are adapting so many of the wonderful PJA traditions to the virtual world.

We have also had opportunities to be together in person for limited small gatherings. Students have been able to meet with their classmates and teachers while following strict mandated guidelines. This has afforded greater community building and fun (and also some learning!) during a time when we all strive to be together and do the things that are familiar and comfortable to us. It brings us so much joy to see our students and teachers on campus and we look forward to the day when we can be back in school in-person safely.

One of the great PJA traditions which we are adapting for the virtual world, is the 59th Annual PJA Auction! We are thrilled to be able to host this wonderful and important event for our school on Sunday, December 6 at 5:30 PM. Sign up here for free to come to the auction and join us as we take our "Hats Off to PJA!" at our most important fundraiser. We would love to have our alumni there with us for this fun celebration.

To all of our alum, we hope you are well and managing during these challenging times. Let us know how you are and, when we can all come back into the building, please come visit! We miss you and look forward to seeing you very soon. Fill out our Alumni Survey here
PJA Alumni Abroad
We recently caught up with a few PJA alumni who are currently living and studying abroad. Here they share their experiences being far from home and how their respective countries have handled the COVID-19 pandemic.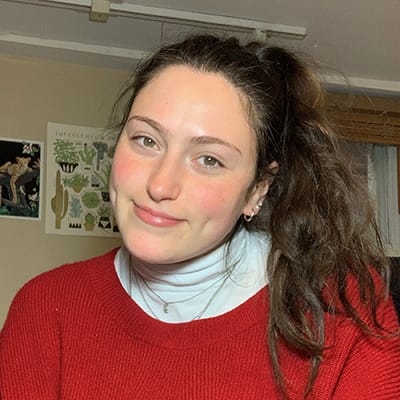 ABBY GLASS
Abby Glass is a 2015 PJA graduate and 2019 Wilson High School graduate. Abby is currently in her second year of study at Queen's University in Ontario, Canada and is majoring in Sociology. Although her school is all online, she decided to return to Kingston, Ontario, in order to live in a house with friends and get some time away from the U.S. The trip to Kingston from Portland is always long, but the pandemic has made the journey even more difficult. Canada requires a strict two week quarantine upon arrival - even walks outside are not allowed. However, for Abby, the long quarantine was definitely worth it because the way COVID has been handled in Canada has made her life much closer to normal than it was all summer in Portland. Abby is in a bubble with her housemates and a few other close friends; she safely dines in restaurants; and she reserves time to study at the library in a mask, of course. There are currently only six COVID cases in the town she lives in, making it slightly easier to relax and focus on school work. The fines for gatherings of over ten people are substantial in Ontario ($10,000 CAD for hosts and $750 CAD for attendees), so people tend to follow the rules, which keeps everyone safe.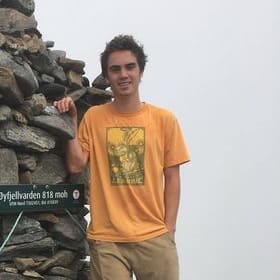 JOAQUIN VOLLMAYER
Joaquin Vollmayer graduated from PJA in 2015, and then went to Cleveland High School. In his senior year of high school, Joaquin was accepted into several universities. He didn't know it at the time, but he really was living the PJA slogan, "Think for Yourself. Work for the World,'' when he turned them all down and applied for a visa to work in Australia instead. In Australia, he surfed, cooked in restaurants, and saved money. When COVID upended his stay in Australia and his plans for traveling to Thailand, he returned for a brief time to the U.S. until he was able to get a visa for Folkehøgskole - "folk high school" - a unique gap year program offered in Norway. Joaquin counts his lucky stars that he's had the chance to see the aurora borealis and climb glaciers 100 miles from the Arctic Circle. Since Joaquin learned Hebrew at PJA, he is sure he can learn and master Norwegian, too.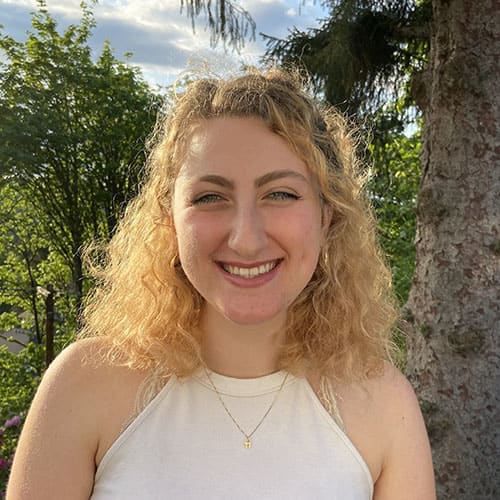 HANNAH GLASS
Hannah Glass is a third-year student at McGill University in Montreal, Quebec studying English/Cultural Studies and minoring in World Cinema and Gender Studies. Hannah is a producer at TVM: Student Television at McGill, an Arts and Culture staff writer at the Bull and Bear magazine, and an active member of The McGill Chavurah, a progressive Jewish student group.

Hannah is currently living with a friend in an apartment in Montreal. Many McGill students, both Canadian and international, returned to Montreal for the sense of community, despite the fact that classes and club programming are delivered remotely. Currently, Montreal's local government mandates restaurants and bars close for in-person service and prohibits indoor gatherings. It can be isolating at times, but luckily Montreal weather this year has allowed for friends to gather outside. Even with the heavy restrictions, being in Montreal has been a relief for Hannah during the politically turbulent times in the U.S. Hannah has enjoyed going on long walks up Mount Royal, cooking gourmet meals, and hanging out in Montreal's many parks.

Hannah is grateful for the strong foundation she received at PJA. "The emphasis on discussions and the supportive learning environment of PJA gave me confidence through High School and College to speak up and be an active part of class discussions. These days, class discussions consist of 50 person Zooms and breakout rooms. I use the skills I learned at PJA to find the courage to unmute and make my Zoom education as active and personal as I can."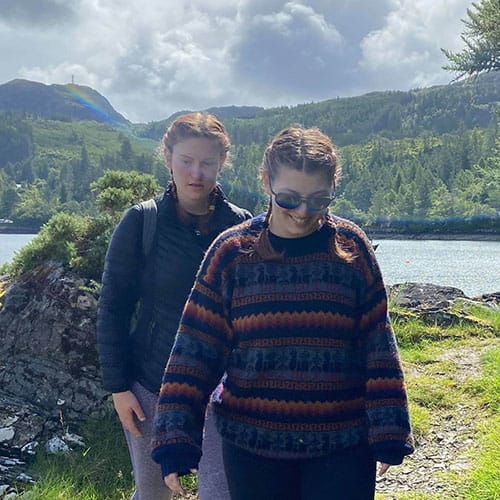 MORIAH HULL
Moriah Hull is in her fourth year at the University of St Andrews in Scotland, where she studies Arabic and Sustainable Development and is involved with Save the Children. She graduated from PJA in 2013 and went on to Riverdale High School.

Moriah has been in St Andrews for the duration of the pandemic, living with her friends and endlessly cooking for them. Scotland has taken initiative to prevent the spread of Coronavirus and is faring better than England, which is among the worst hit in Europe. While she intends to travel after graduation, she knows that may not be entirely feasible, but hopeful she will be able to do something fun before setting course for graduate school.

Moriah loved her time at PJA, which gave her lots of skills for high school, and to some extent university. PJA engendered ideas of social responsibility that impacted her choice of degree, and gave her a curiosity for the world that set her on her path to studying internationally for her undergraduate degree. PJA nurtured her Jewish identity by teaching her its traditions, values, and history, which allows her to represent her religion proudly in a university with a very limited number of Jewish students.
All Alumni are Invited to Attend PJA's Virtual Auction on 12/6

If you're like most of us, our calendars are mostly clear of social engagements these days. So that means you'll have no excuse to miss PJA's 59th Annual Auction on Sunday, December 6th. Please join us for PJA's first-ever virtual auction--Hats Off to PJA!--from the comfort of your own home! Tickets are free, but registration is required.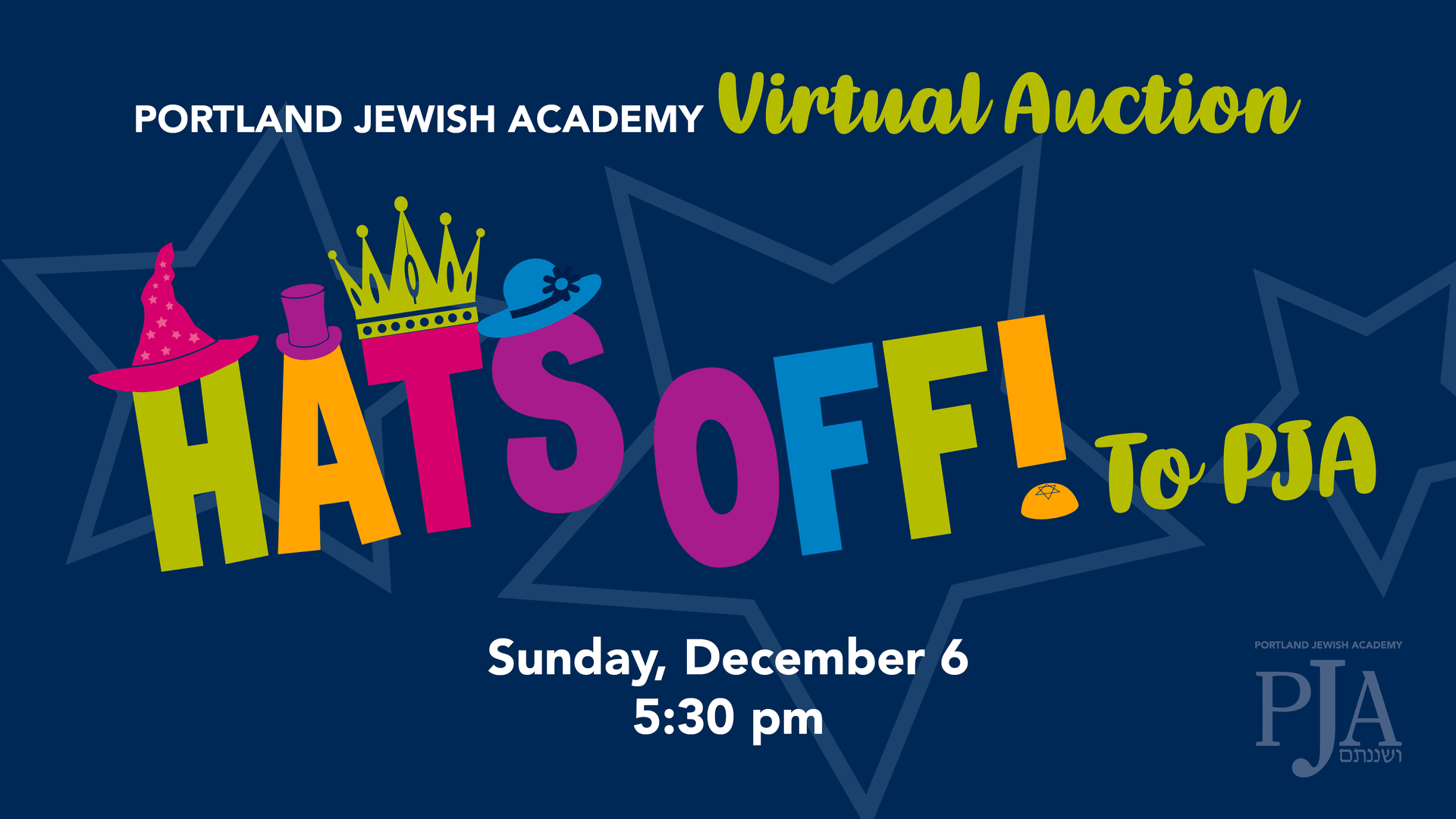 Starting on Wednesday, December 2nd, you can bid on fantastic auction packages including restaurants, vacation homes, wine and beer, home and office essentials, and much more. And, in true PJA fashion, we'll once again be doing our beloved costume contest. So plan to don your favorite hat and show up for what promises to be a fun night for a great cause. Register at: www.pjaproud.org/auction

All Sponsorships and Mitzvah Moment gifts will be matched 1.5x thanks to the generosity of the Rosenberg/Lippman and Zidell families! PJA relies on the proceeds of the Annual Auction to fund tuition assistance, professional development, technology and all the things that make PJA stand out. This year, more than ever, your support is critical to our success.

Hope to see you on December 6th! Register here
PJA hosts virtual open houses Nov. 18 & Dec. 8
The admission office may have gone virtual this year, but we will still offer lots of ways for prospective families to get to know PJA. The Lower School Virtual Open House will be at 6 pm on Nov. 18 for families with children entering Kindergarten through 5th grade in fall of 2021. The Middle School Open House will be at 6 pm on Dec. 8 for families with children entering 6th or 7th Grade in the fall of 2021. For more information and to register for one of the virtual programs, visit pjaproud.org/admission.
PJA Alumni Share their High School Wisdom with Current Families

Earlier this month, the PJA Kehillah Organization hosted their annual High School 411 event. Like all other events in the time of Covid, this one was turned into a virtual event. At High School 411, recent PJA alumni speak with current 8th graders and their families about their personal experiences transitioning into high school. Our excellent panelists this year were Hadassah Gordon-Knight, a freshman at Northwest Academy; Gili Heyman, a sophomore at St. Mary's Academy; Noam Rosenthal, a sophomore at Beaverton High School; and Galia Zaslavsky, a sophomore at Wilson High School. Our moderator for the evening was Enie Vaisburd who, as a parent of a PJA graduate now in high school and a PJA 8th grader, has the unique perspective of knowing what current students are wondering about and knowing what lies ahead. Enie introduced the evening with the unassailable truth that "every student is different and therefore, every high school experience will be different."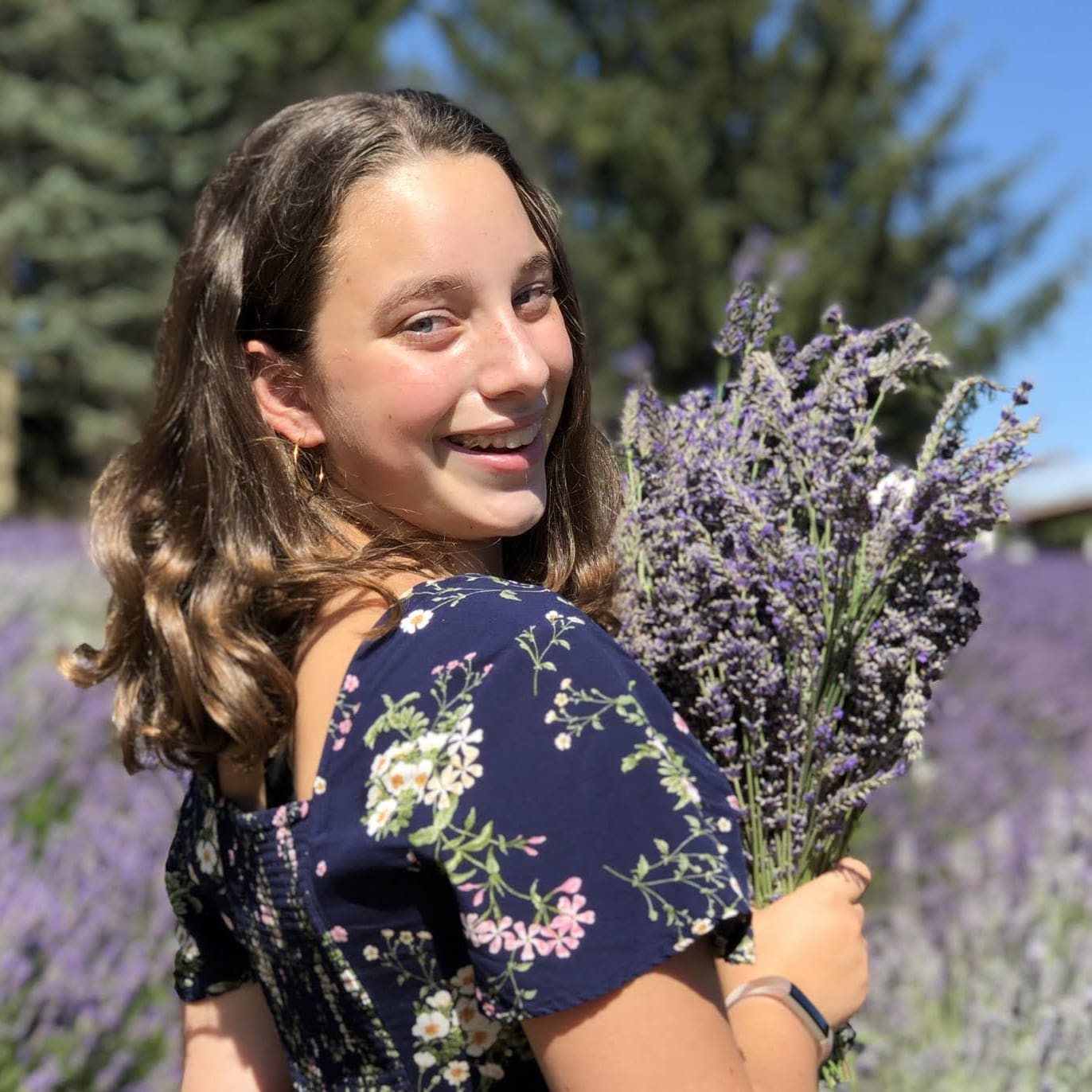 Dassi Gordon-Knight, a freshman at Northwest Academy, joined fellow PJA alumni to share her thoughts about making the transition to high school.
That truth was apparent in the comments of the panelists who each had different experiences with building new social connections, getting accustomed to new ways of being assessed and graded, or with the rigor of their specific school's program. However, it also became apparent that there were some aspects of the transition to high school that are universal. Our alumni spoke about their ability to advocate for themselves in the classroom. They all felt well-prepared for high school level coursework - and they advised current students to hold onto those notes from math, science, and Spanish because much of that material will be revisited in high school! They all expressed gratitude for the values that they learned at PJA which they continue to rely on as guideposts in their new lives. Finally, they have all stayed committed and connected to their Jewish communities and their own Jewish learning.

For the 8th graders and their families, it was empowering to hear from older students who have left the comfort of PJA and survived - and even thrived! As one parent of a current 8th grader said, "I know my child will miss the amazing educational opportunities and the small, supportive environment at PJA--her years there have really been transformative. She has an idea from her brother of all the great class offerings and extracurriculars at Grant (and hopefully we can return to "normal" by next school year?!), so while graduating from PJA will be bittersweet, hopefully there will be lots to look forward to."
Pardes taps Jennie Spector for award
This article is from the Jewish Review
Pardes Institute of Jewish Studies in Jerusalem named Portland native Jennie Spector, 27, the 2020-21 Marla Bennett, z"l, Scholar.
"It's an incredible honor to have the opportunity to study in Marla Bennett's, z"l, memory," says Jennie, the daughter of Marshal Spector and Sharon Pollin. In 2002, Marla was enrolled jointly at Hebrew University and in the Pardes Educators Program, pursuing her plans to become a Jewish educator, when she was killed on July 31, 2002, in the Mt. Scopus terror bombing. The Pardes community continues to mourn her loss.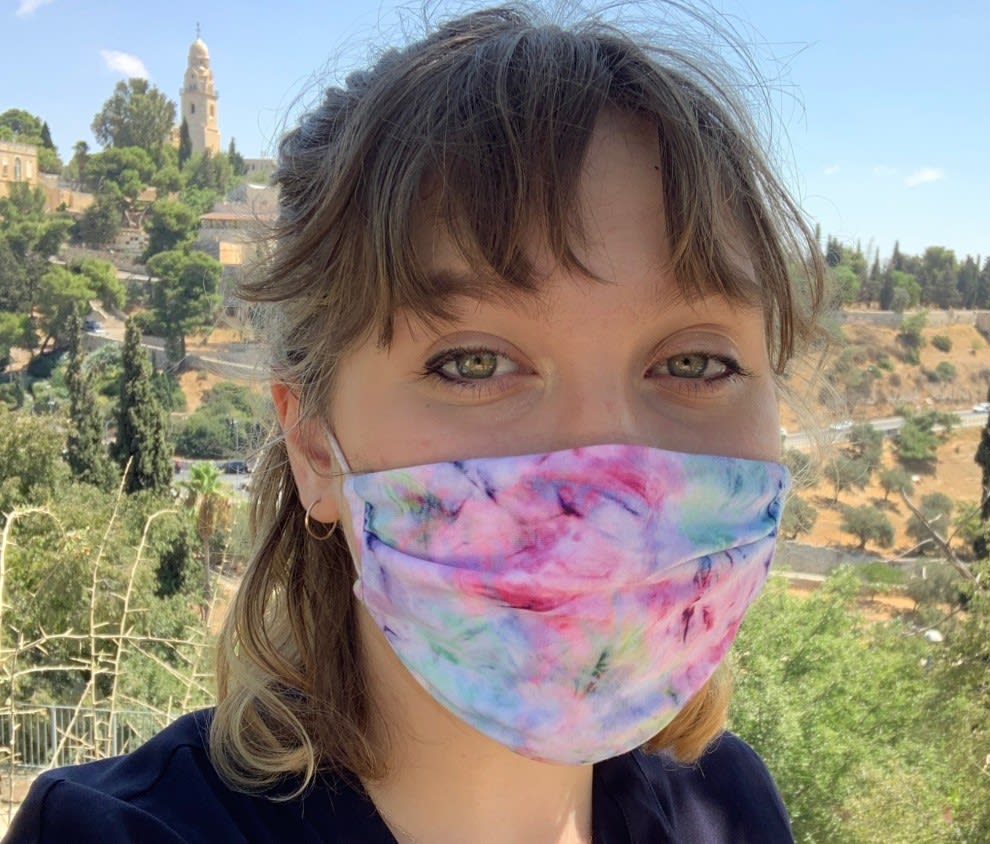 The scholarship in Marla's memory is awarded to a select young Jewish leader from North America who is passionate about building community and eager to enrich their personal identities and leadership roles through the in-depth study of classic Jewish texts and core Jewish ideas.

"Life is a fragile thing, and we don't know when ours may suddenly come to a close," says Jennie. "During her time, Marla chose to invest herself in deep Jewish learning, to be part of the incredible Pardes community and help lead the way toward a bright future for the Jewish people. While her work and her learning were cut short, I am inspired by her choices and will do my utmost to continue the blessing of her life in my own small way."

Jennie is no stranger to Jewish study. She graduated from Portland Jewish Academy. Growing up at Congregation Shaarie Torah at a time when women were not called to the Torah, she became a bat mitzvah with her own feminist celebration. She was also involved in NCSY and was Jewish Student Union regional president.

Jennie earned a bachelor's in international affairs from Northeastern University in Boston in 2016. She had worked professionally in theater for the past several years, but when COVID halted live theater, she searched for a meaningful way to spend this year.

"I'd been more and more drawn toward deep Jewish study," she says. "Pardes was a perfect fit; it's been especially cool because both my parents are alumni. … Right now my studies range from Mishnah and Chumash to examining female archetypes in Talmud, intro to Rambam and exploring what it means for humanity to be made B'tzelem Elokim (in the image of God)."
Jennie did not apply for the award and was surprised when she was notified that she was the recipient.
"Receiving it was … a special honor because I was selected a couple months into the program, after the staff and faculty had gotten to know me," she says.

Pardes Associate Director of Marketing Michael Emerson says, "We are very proud of Jennie and excited that she is part of our program this year. Despite the pandemic and the limitations on international travel, we were able to assemble an incredible cohort of students interested in studying Jewish texts in-person at our Beit Midrash, and Jennie is an excellent example of the caliber of student we attract."

Portland Jewish Academy is a beneficiary of the Jewish Federation of Greater Portland and is proud of our partnership with them in strengthening our local Jewish community as well as the global community.
Portland Jewish Academy
6651 SW Capitol Hwy | Portland, OR 97219 | P 503.244.0126 | F 503.452.7001